Website Design in Lancaster, PA
Thoughtfully Crafted, Custom Built WordPress Websites
We work meticulously to craft tailor-made websites. We start by reviewing your analytics, planning your site's architecture, creating a sitemap, and organizing your content. We then pore over every pixel and line of code to create a website that represents your brand, connects with your customers, and accelerates your growth.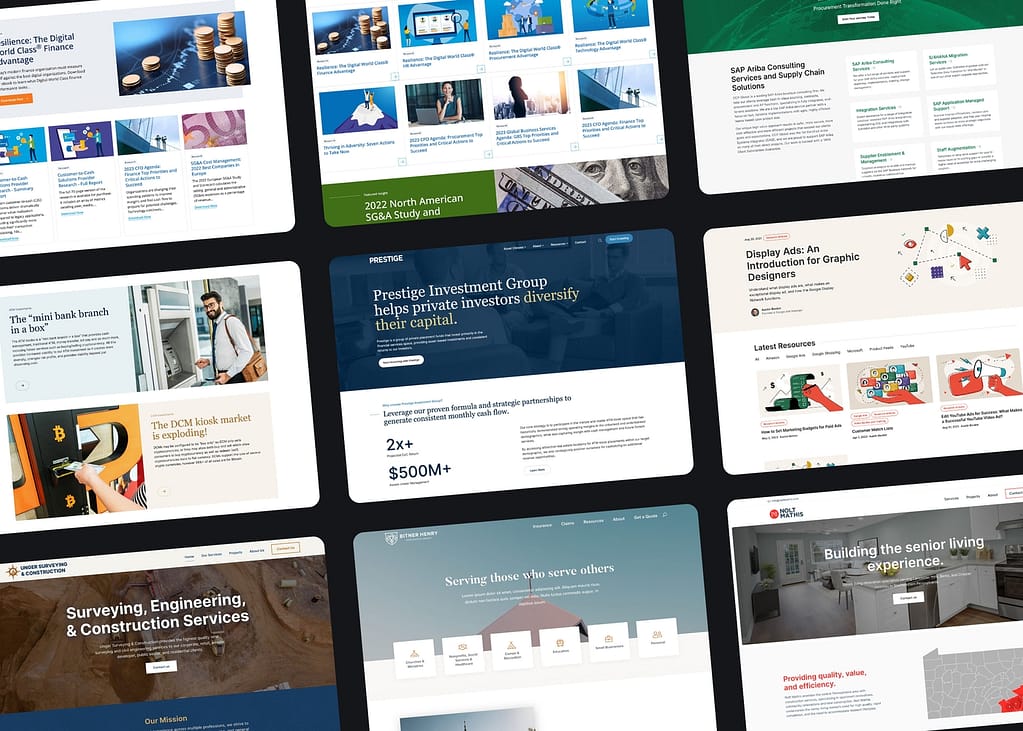 ---
Website Design and Development Services: What's Included in a Website Redesign or New Build
Whether we're redesigning a website or launching a new one, we take a holistic approach, breaking a project down into four major considerations: strategy, design, development, and SEO. We tackle each one with equal importance, ensuring a comprehensive solution that is thoughtfully built, beautiful, functional, and optimized for search engines.
01
Website Strategy
A website should be easy to understand and navigate. It should feel familiar, be logically organized, and provide jump-off points with clear routes to essential content and tasks, allowing your customers to quickly find the information they're looking for. Creating a great user experience starts with getting to know you and your customers: We familiarize ourselves with your content, get to know your goals, review competitor sites to understand industry norms, and analyze your website analytics to gain customer insight. With a good understanding of you and your customers, we can put a plan in place and lay the foundations for a successful website.
The website strategy phase includes:
Questionnaire
Review analytics
Competitive analysis
Plan site architecture
Plan site navigation
Create sitemap
Organize content
02
Website Design and Development
We design and develop custom websites, giving us full control of the development process and enabling us to use the best tools for the job. We can build a unique website for your business that meets current requirements and scales to accommodate future growth. Custom websites offer a number of benefits over ready-made templates and page builders:
More unique design
Longer lifespan
Faster page load times
Higher accessibility and security standards
Easier to fix and scale
We understand a custom site doesn't fit within everyone's budget. We also offer more affordable website solutions. Contact us to receive a quote.
We use WordPress, a popular and user-friendly content management system that gives our clients the ability and freedom to edit their own content.
03
Search Engine Optimization: Technical and On-Site SEO
Technical and on-site SEO are the foundations of SEO and getting listed and found on Google and other search engines. We partner with Evident, a Lancaster-based company that focuses solely on SEO, to perform keyword research, provide sitemap input, and provide detailed content recommendations, ensuring your website is technically sound and positioned to perform well in search engine results pages.
Technical and on-site SEO includes:
Keyword research
Sitemap input
Content recommendations
Creat robots.txt file
Set robots meta tag for each page
Write and populate title tags, meta descriptions, and image alt tags
Add 301 redirects
Add Schema.org structured data
Identify and fix broken links
Improve internal linking
04
WordPress Website Maintenance
Once your website is live, the exciting journey of website maintenance and management begins: software updates, regular backups, uptime monitoring, daily malware scans, and more. If this doesn't get you excited, we understand. We offer several WordPress maintenance plans to cover your needs, protect your investment, and take this time-consuming task off of your hands.
---
We Build Websites the
Right Way
Strategic
We build websites that have a logical site structure, clear and concise navigation, and well-organized content. We make it easy for your customers to scan your website and find what they're looking for.
User-Friendly
Responsive design, information architecture, scannable content, clear visuals, fast page load times, and accessibility are just a few of the factors we consider when building user-friendly websites.
Mobile Reponsive
We design responsive websites that are optimized for all devices and screen sizes. We thoroughly test our websites across modern browsers and devices to ensure consistency.
Accessible
We understand not everyone experiences your website the same, which is why we carefully craft websites to meet ADA standards and WCAG Level AA compliance.
Fast
Speed optimization is just one of the benefits of a custom website. We only include the functionality and styles your business needs, whereas a template or page builder has to accommodate a wide range use cases and often comes with a lot of bloat.
While our custom websites are fast from the get-go, we offer a website speed optimization plan that takes your website to a whole other level.
Scalable
As your business grows, your website needs to scale and grow with it. We use WordPress features like custom post types, custom taxonomies, reusable blocks, and block patterns to make data entry easy, keep your content organized, and automatically display your content on the front end.
We offer website maintenance plans to help you manage your website and scale your business.
Secure
We only use reputable and highly-rated WordPress plugins. When it comes to custom theme development, we follow WordPress security guidelines by escaping all data from untrusted sources and third parties before displaying it on the front end.
We offer a website security plan that keeps your software up to date, scans your website for malware, and filters out malicious requests to your website.
Current
We use the latest stable WordPress features and functionality. We currently build sites using WordPress' block editor, which enables you to create more flexible page designs.
Trusted Website Design Clients
Josh is great to work with. He has a sharp eye and a love for detail that makes his designs incredibly clean and engaging. Would absolutely work with him again.
Josh Kern goes out of his way to listen to clients and guide them – he is a person of integrity! His knowledge and expertise make it easy to give his company 5 stars!
Norman Robertson
Norman Robertson Ministries
Josh is a great web designer and person, you could not find a better person to help you with any website work. Used his services for several years now and always does quality work.
Frank Tunis
Caliente Pizza
It's been a real pleasure working with Kern Web Design, appreciating the timeliness, technical expertise, design consciousness and efficiency brought to this work in support of our organization's work and mission!
Chris Fitz
Advoz: Mediation & Restorative Practices
During the pandemic, Josh helped our organization pivot a number of business operations quickly with user-friendly technology. Josh has been key to the success of the marketing teams that I have managed.
Levi Landis
GoggleWorks, Executive Director
Josh's work as web designer and webmaster have enabled us to document our exhibitions and display our collection online, helping us to fulfill our mission. I cannot recommend him highly enough.
Fred Kaplan-Mayer
The Center for Art in Wood
Let's Get To Work
Let's work together to build a website that works for you and helps you achieve your business goals. With our 10+ years of experience, you can trust us to seamlessly guide you through the entire website redesign process.
---